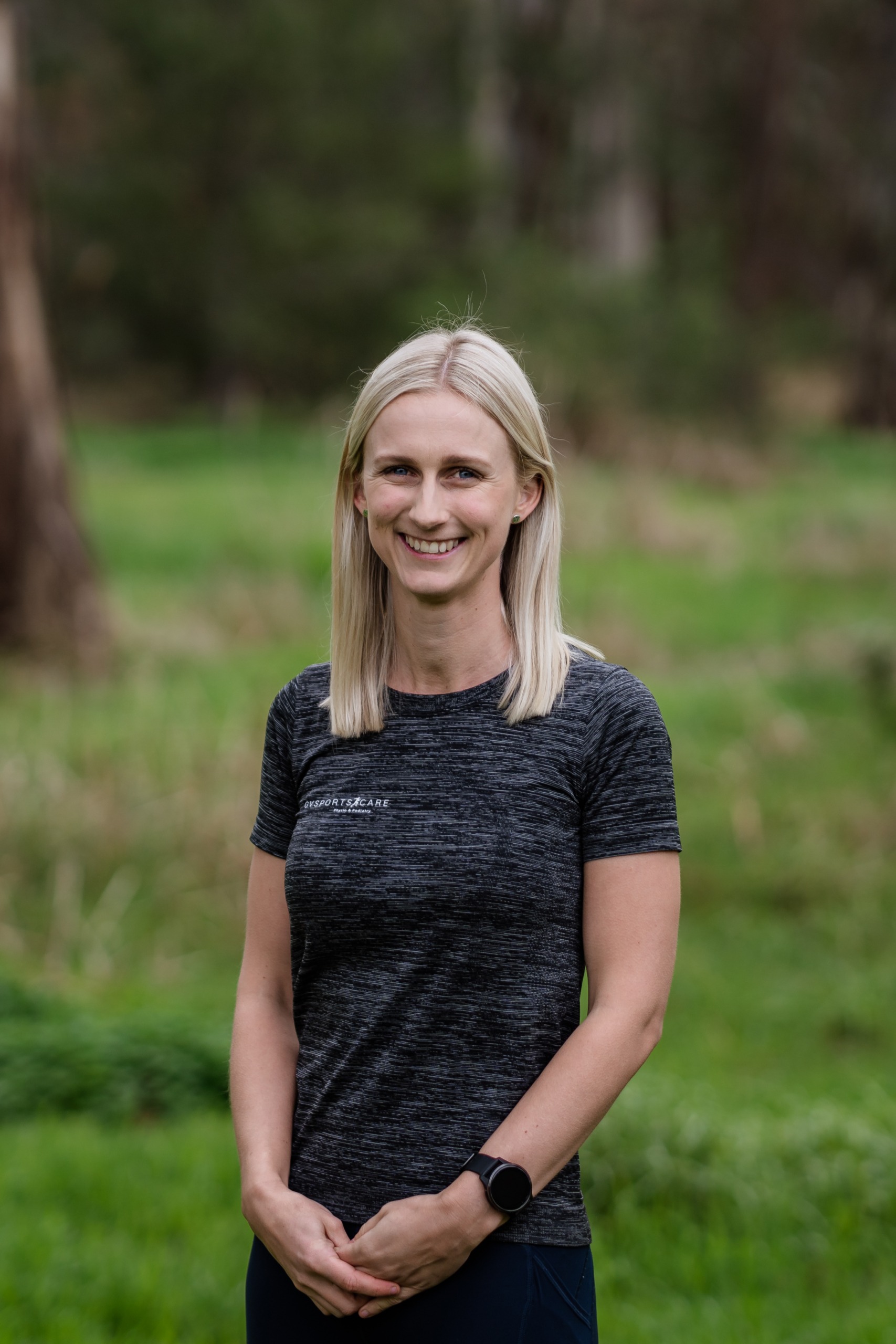 SOPHIE WOODHOUSE
Physiotherapist
Bachelor of Science
Doctor of Physiotherapy
GV Sportscare
Read more about Sophie...
Growing up in Shepparton, Sophie developed a passion for health and fitness through her own sporting endeavours playing competitive netball and basketball. She moved to Melbourne where she completed a Bachelor of Science (Anatomy Major) and Doctor of Physiotherapy at The University of Melbourne. After 6 years of study Sophie began working at a large Private Practice in Camberwell. Here Sophie gained valuable experience treating sporting and spinal injuries. She also conducted Clinical Pilates and Functional Training (circuit based strength) classes to aid in the rehabilitation of injuries. Sophie worked as head physiotherapist for Old Ivanhoe Grammarians Football club for a number of years (and is therefore proficient with the management of concussion), as well as several national netball and softball tournaments.
Sophie enjoys treating a wide range of musculoskeletal and sporting injuries. Working closely with 2 leading Melbourne foot and ankle orthopaedic surgeons further developed her interest and expertise in these conditions. It has given her a better understanding of the patient's journey leading into surgery, after watching interactions between the surgeon and client as they make that decision. She has seen first hand the significance of post operative rehab and the difference it can make to the overall success of the procedure.
Sophie is passionate about exercise for the pre or post natal women and enjoys developing plans and goals to return to exercise for these clients. She can also help relieve the discomfort associated with the different stages of pregnancy and post partum. From pelvic instability and low back pain during pregnancy to shoulder or neck pain with breastfeeding, Sophie uses a mixture of soft tissue release and exercises to help alleviate these symptoms.
Sophie also understands how relentless and debilitating low back pain and neck pain can be; and takes extra care to solve the root cause of the problem, not just the symptoms. She has completed extra training in spinal conditions and has a strength based approach. She thinks it is also very important to understand the person's relationship with their (often longstanding) pain and work together for practical tips on how and when to move and get back to normal life!
Click here to see the full list of conditions Sophie treats, she loves variability in her work and will create detailed treatment plans or delve further and research any unusual or quirky injuries that walk through the door. She is also well supported by a network of specialist physios, sports doctors and surgeons through her years working in Melbourne and will call on them as needed.
Sophie's post graduate qualifications include:
Dry Needling
Back and Pelvis
Integrated Neck Solutions
Continence and Women's Health
In her spare time Sophie loves to go camping and watch the mighty Richmond Tigers, a life highlight including attending the 2019 Grand Final. She has plenty of excellent cafe and restaurant recommendations should you make a trip to Melbourne! Sophie is excited to be back in Shepparton, close to family and friends and servicing the town that she grew up in.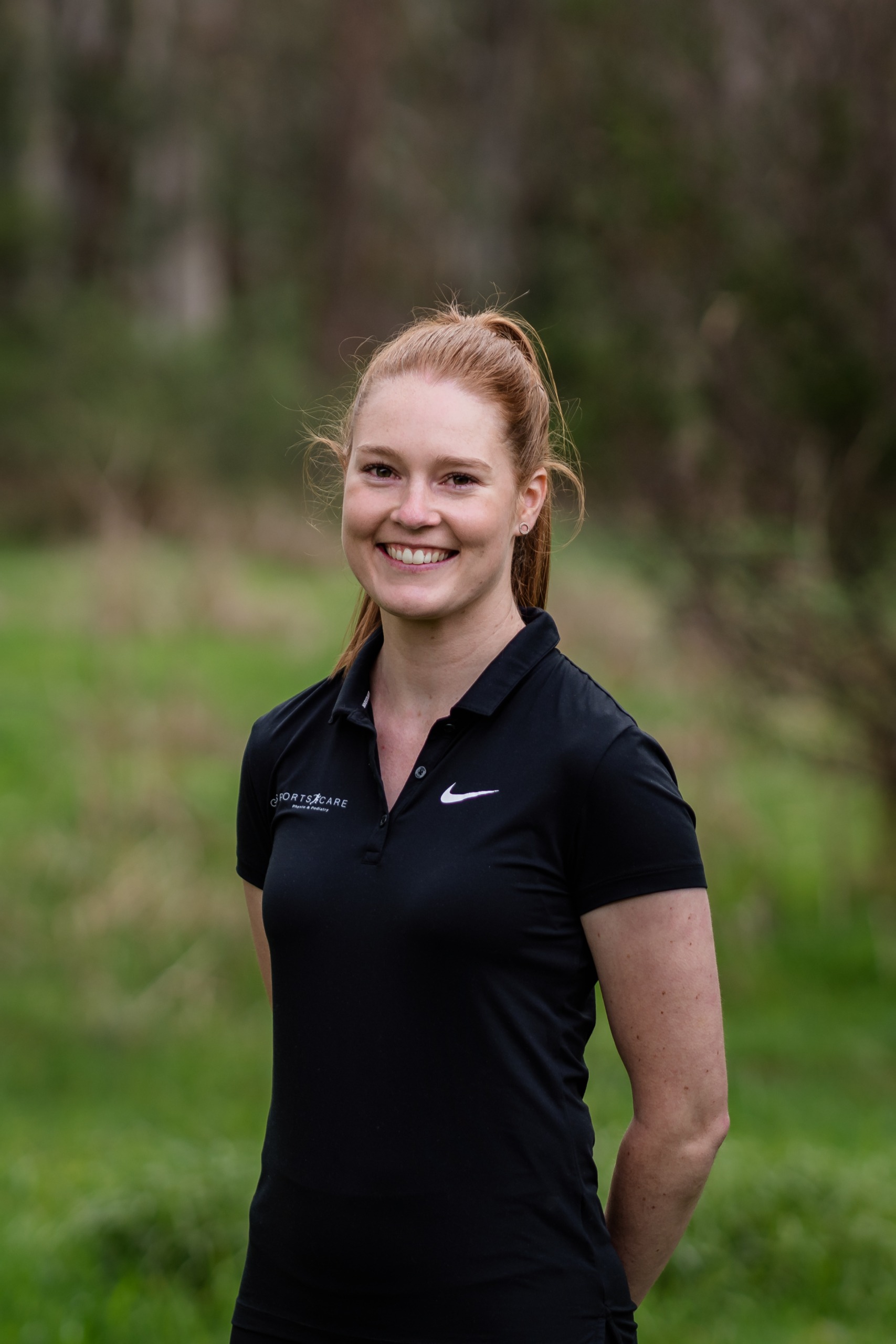 GEORGIE O'CONNOR
Physiotherapist
Bachelor of Physiotherapy
GV Sportscare
Read more about Georgie...
Georgie O'Connor is a Physiotherapist who graduated from Charles Sturt University in Albury/Wodonga. Having grown up in Shepparton, she was determined to start her career in her home town.
Georgie first started working in private practice at musculoskeletal clinic for 2 years. During her time at this clinic, she developed skills and experiencing in a variety of musculoskeletal conditions including lower back and neck pain, sporting injuries, chronic pain, pre and post natal care, arthritic conditions and many more.
Georgie is determined to find the source of your pain and develop a treatment plan around your symptoms and lifestyle. She is knowledgeable in exercise prescription and will provide you with a tailored program for your condition.
Georgie's post graduate qualifications include:
Outside of work, Georgie loves playing sport including netball and tennis. She also enjoys spending time with her friends and family, and a quite night on the couch reading a good book.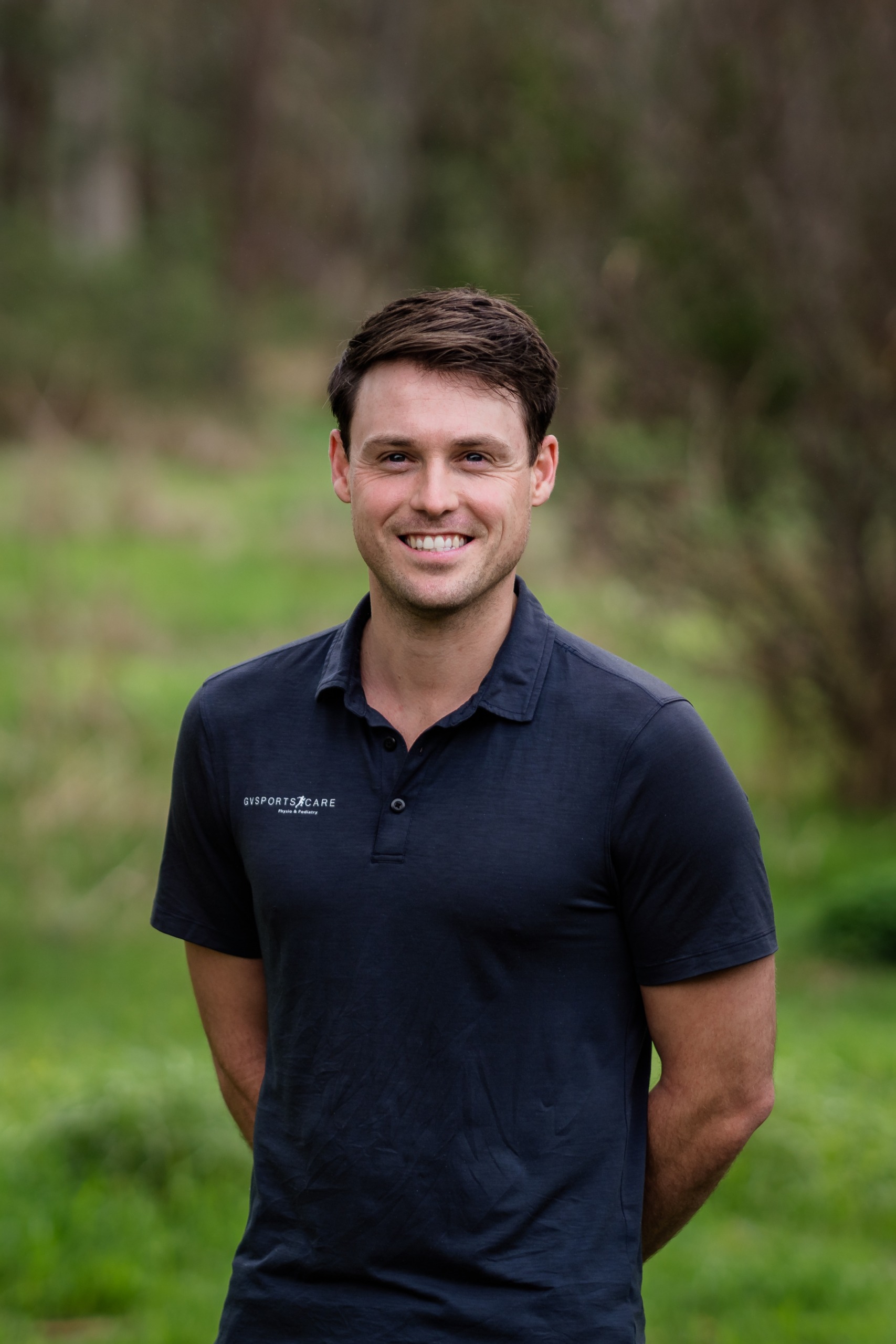 TOM DAVEY
Podiatrist
Bachelor of Exercise and Sport Science
Bachelor of Health Science, Masters in Podiatric Practice
GV Sportscare
Read more about Tom...
Tom Davey is a biomechanical and sports focussed Podiatrist. He grew up in Shepparton and attended Goulburn Valley Grammar School, graduating in 2008. Tom then completed a Bachelor of Exercise and Sports Science (majoring in Exercise Rehabilitation and Strength and Conditioning) at the University of Ballarat. After some work in this industry Tom returned to study a Bachelor of Health Science & Masters of Podiatric Practice at La Trobe University in Bendigo. You may also recognise Tom from his time working as duty supervisor at Aquamoves Shepparton.
Tom has practiced privately in Melbourne for the past 4 years and takes pride in successfully treating complex biomechanical and musculoskeletal conditions of the lower leg, foot and ankle. Since 2017 he has been working within one of the largest sports medicine clinics in Melbourne. Here he practices daily with physiotherapists, myotherapists and a sports physician and believes a collaborative approach is essential to provide the best possible outcome to the client. Tom has also recently taken on a clinical supervisor role with La Trobe University to tutor the next generation of Podiatrists.
Tom's qualifications provide him with an extensive understanding of lower limb biomechanics and allows him to implement strength and conditioning into his treatment programs. From the acute or chronic ankle sprains to the everyday aches and pains of arthritic joints, Tom uses a mix of hands on approach including mobilisations and manipulations, combined with targeted exercise programs to address each injury.
Tom is clinically focussed at looking at the big picture, addressing all areas of health which may contribute to foot or lower limb injuries. This includes sleep, diet, hydration, movement and exercise. Tom is also skilled in lower limb dry needling, foot manipulation and toe nail surgery. He is currently personally researching minimalist footwear and the barefoot movement, noticing the benefits these approaches can have on himself and for patients.
Treatment techniques used by Tom include:
Foot mobilisation (to assess each individual joint in the foot)
Foot manipulation
Dry needling
Myofascial release tools
Running assessment/retraining
Orthotic therapy
Local anaesthetic injection therapy
CAM boot fitting
Casting for non-displaced fractures (lower limb)
Orthotics..
"If you are STRONG enough and your foot moves well enough you should not need orthotics"
Tom has a preference to increase foot mobility and strength over the use of orthotics. In the situations where orthotics are required, he is experienced in custom orthotic prescription and adjusting existing orthotics.
Tom's post graduate qualifications include:
Outside of work you will find Tom 4WDriving, camping or fishing. Tom is looking forward to returning to tennis and working on his golf game in Shepparton.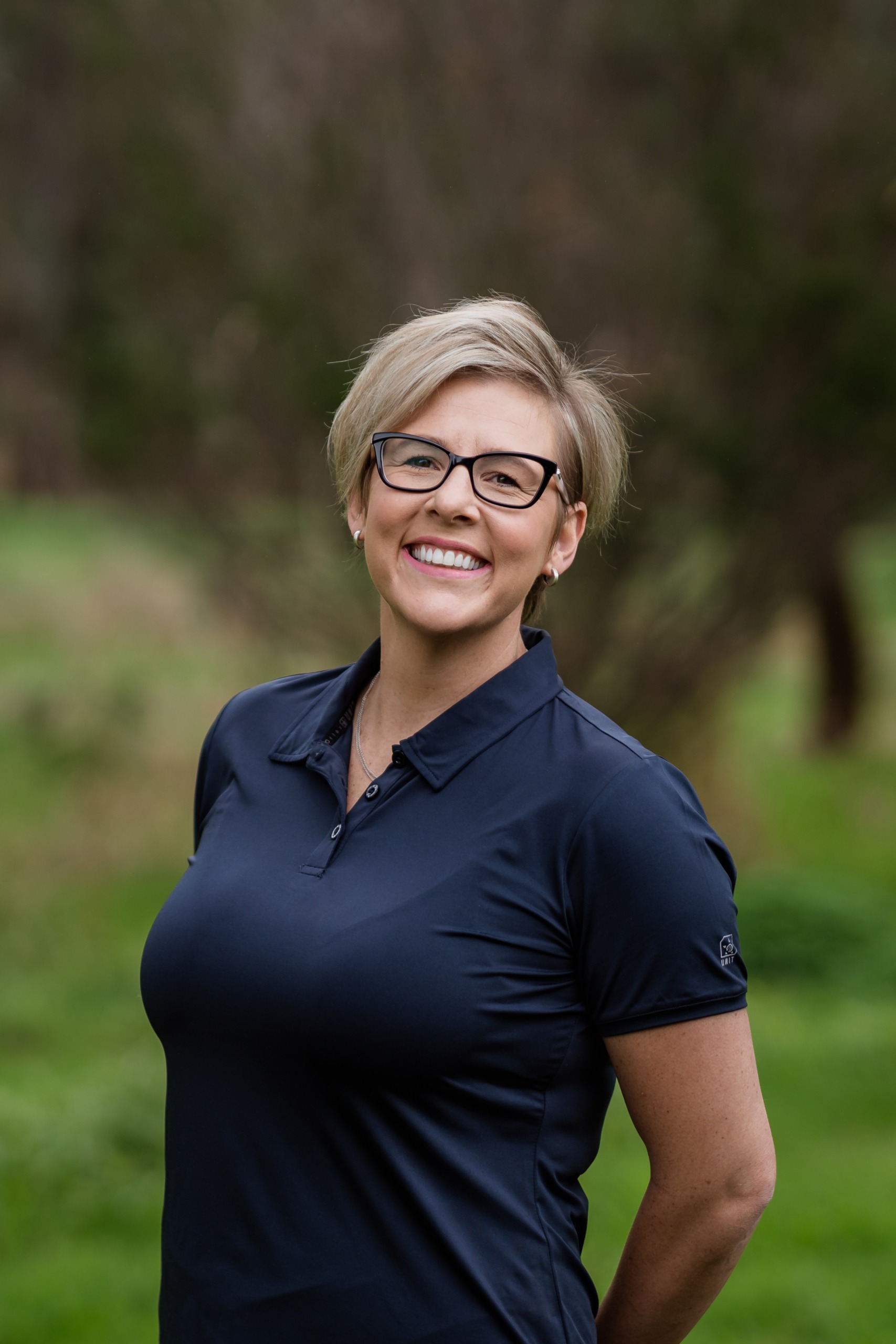 CELESTE O'BRIEN
GV Sportscare
Read more about Celeste...
We would like to introduce you to our bubbly Receptionist, Celeste O'Brien.
Celeste brings with her a great passion for health and fitness with years of experience in a gym environment as a fitness consultant. Celeste also has a Diploma in Nutrition (Certified Nutrition Consultant, Non-Clinical) and loves to talk all things food, healthy food of course!
Celeste's other great passion is her two Golden Retrievers, 12 year old Ocea and 1 year old Alby. Celeste's loving husband Shane believes she loves them more than she loves him (we think she might too 😊).
When Celeste is not hard at work keeping things in order, she loves to be outdoors hiking, trail running, mountain climbing, and walking the dogs.
Please join us in welcoming Celeste to the GV Sportscare Team.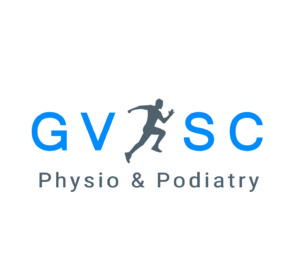 ROBYN WOODHOUSE
GV Sportscare
Read more about Robyn...
Introducing Robyn, the friendly face behind reception 
Robyn has extensive experience in medical and surgical administrative roles and we are very lucky to have her here assisting us in our new premises. Say hello and have a chat, Robyn loves travelling Australia, horse shows and camping with family.