What is the difference between Clinical Exercise and Clinical Pilates?
Clinical classes are run by fully trained physiotherapists. Physiotherapists spend 4-6 years studying in depth anatomy and biomechanics in order to learn why and how the body should move. We then use these skills to assess injuries and how best to rehabilitate them.
Pilates has been well studied as a successful mode of rehab in particular for those with neck and back pain, but can be used for most injuries. Our Clinical Exercise classes are capped at a maximum of 6 participants, meaning that each person will be closely supervised in order to prevent poor quality execution of exercises and prevent further injury.
Each participant will perform their own individual program that has been designed by our Shepparton physiotherapist, in order to address areas of weakness or correct poor movement patterns.  The tailored program is progressed once quality movement has been achieved. It is important to understand that at different stages of your life that your body adapts to increasing load differently and therefore progressions are carefully thought out by your physio.
Physios are also able to account for recent relapses or 'flare ups' of injury and alter your program accordingly to prevent further irritation. Physios are also able to manage multiple injuries and find a way to keep you exercising safely. We also have many clients who just like to exercise for general fitness under the supervision of a physiotherapist. For those who fall into more vulnerable groups eg pregnant, returning to exercise post pregnancy, returning to exercise post major surgery or illness, physiotherapists can also account for changes in your anatomy, physiology and load tolerance to design an appropriate program.
For these reasons group physio classes is one of the only classes that are still funded by private health insurance companies as per the new government regulations.
What is a reformer and why is it so popular?
Joseph Pilates was the inventor of Pilates and one of the machines he developed to practice Pilates is called the Reformer. A Reformer has a carriage which is flat platform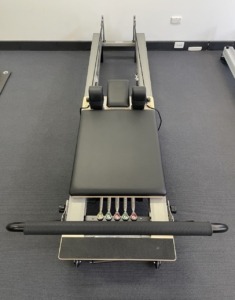 d skill. You may have heard that Pilates is a great way to train your core. With the Reformer the carriage which rolls along the frame and the springs that can be changed to provide more or less support which will challenge stability and core strength. The Reformer is designed in such a way that muscle is built but joints do not feel the same type of load that traditional exercise can place in them. Therefore people find that they can challenge their body more in Pilates and build strength easier. Our Shepparton physio can change how much of your body is supported by the Reformer which will change how much support your body will need to provide to perform the exercise.
and rolls back and forth on a frame. The carriage is attached to one end by springs that provide differing levels of resistance. The reformer also has straps that you can use to push or pull with your arms or legs.
One of the great advantages of the Reformer is that due to it's versatility and design you can exercise is many different positions and it is adjustable for individual body types an
To summarise reformers are popular for a few reasons:
-it's versatility means exercises can be tailored to many different fitness levels
-it's gentle, many exercises can be performed lying down, sitting or standing. They are generally low impact however still count as 'weightbearing exercise' in most instances.
-it can also be really challenging, as your awareness and core strength improves the more challenging exercises you can master.
-there is much research to prove that Clinical Pilates is very beneficial in many musculoskeletal injuries, particularly neck and low back pain.
-Sophie Woodhouse
Physiotherapist Shepparton
GV Sportscare
https://gvsportscare.com.au/wp-content/uploads/2021/02/shepparton-pilates-physio.jpg
839
1280
admin
https://gvsportscare.com.au/wp-content/uploads/2020/01/GV-SPORTSCARE_FULL-COLOUR-LOGO-Large.png
admin
2021-02-15 16:04:27
2021-02-15 16:04:27
Clinical Exercise (formerly Clinical Pilates), what's so good about it?